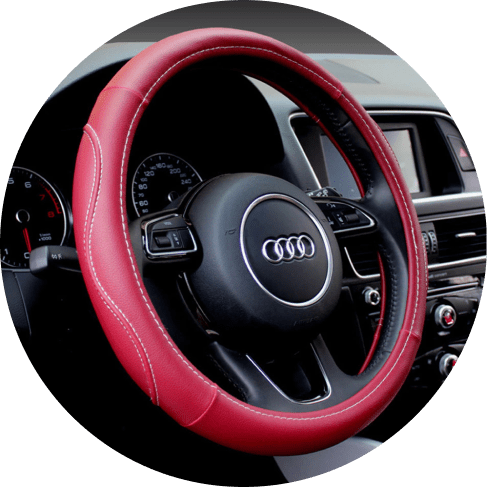 Sportscar-inspired looks
Everyday practicality
Score a touch of designer cool while improving your steering grip with this Red Polyurethane Leather Steering Wheel Wrap.
A touch of luxe
Texture + feel that elevates
Fits most steering wheels
With 15" in diameter, our steering wheel cover fits most standard vehicle steering wheels.
Real feel, real detail
White stitching adds visual design and subtle grip, so you can feel like a racer in your ride (but please: drive safely).
Protect your steering wheel
Some plastic and synthetic leather used by automakers can fade in color and feel over time, so our steering wheel wrap helps protect while adding its own flair.
A snug fit
Our polyurethane-leather wrap provides a tight fit about your steering wheel for tighter control and hold with every turn.
Everyone can use some help
Strengthen your control over the steering wheel with this smooth, grip-ready Red Polyurethane Leather Steering Wheel Wrap.