Need some relief from the heat? Break out the sprayer. Skin feel dry and dull in the morning? Turn on the sprayer at night. For all those moments where you just need a refreshing boost, our Nano Anti-Aging and Hydrating Facial Sprayer is a great way to freshen up your complexion and bring you cooling relief — anytime, anywhere.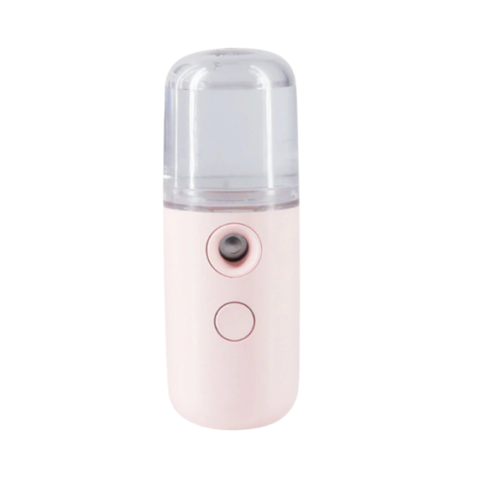 Fight dryness or heat
You can fill this sprayer with you to 30ml of water or your favorite facial essence for moisturizing mist or cooling H2O relief at the click of a button. Whether it's the scorching-hot summer or the dry and cold winter, keep your skin in check (meaning: calm and moisturized) with our little wonder — no bulky humidifiers required!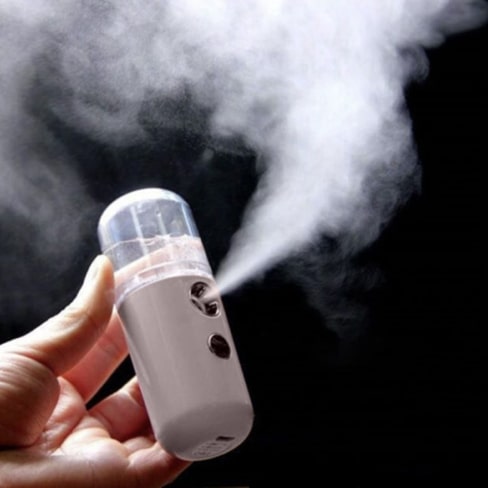 USB rechargeable for
hours of misting joy
Each Nano Anti-Aging and Hydrating Facial Sprayer contains a built-in 400mAh lithium polymer battery that is rechargeable with a USB cord (included in your purchase). Fully charge up in three hours for a ready-to-use skin booster. Note spraying will stop if water or essence in the water tank runs out.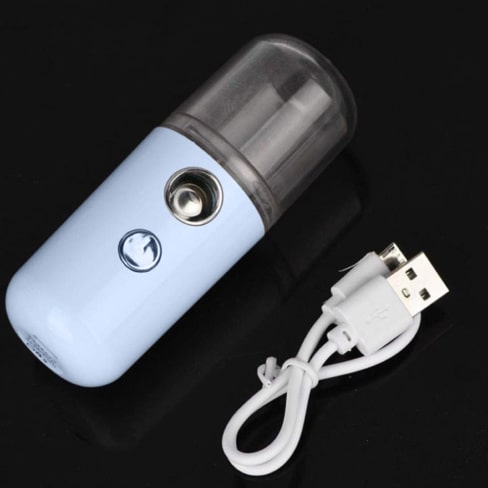 Four steps to glowing skin
Step 1
Hold the sprayer so that the sprayer body is on top and water tank is on the bottom. Rotate the sprayer body counterclockwise to detach the water tank.
Step 2
Fill up the water tank with water or an essence of your choice.
Step 3
Replace the sprayer body by turning clockwise to lock and close.
Charging & Data Transfer
Turn the sprayer over so that the water tank is now on top. This is the correct dispensing position. Double-click the button to start the sprayer.
Light illumination
A built-in light indicator lets you know the status of your sprayer. A solid blue light indicates the device is on and in use while a red flashing light means the device is currently charging. If you see a solid red light, that means the device is fully charged and ready to use.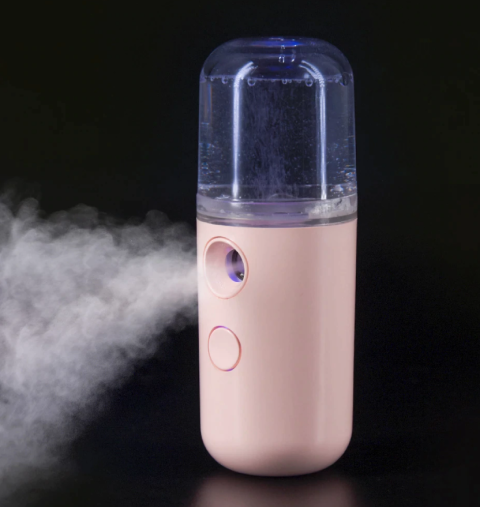 Sanitation to the rescue
In today's germ-conscious world, our Nano Anti-Aging and Hydrating Facial Sprayer rises to the occasion by doubling perfectly as a sanitizing sprayer. Simply fill the water tank with an alcohol of at least 70% isopropyl alcohol to disinfect surfaces, items like phones, keys, and wallets, or small spaces.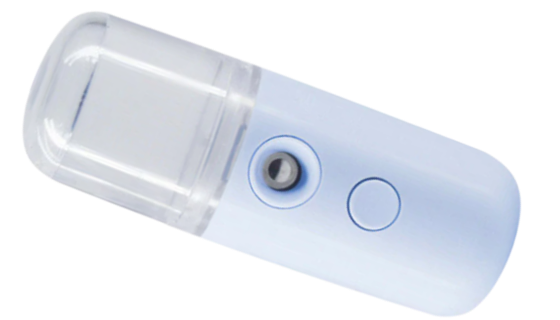 Take it anywhere
Our sprayer fits perfectly into any purse or makeup bag or backpack for on-the-go refreshment.
Made of plastic and measuring just 4.5 x 1.2in (11.5 x 3cm), there's no bulk or burden for this beauty booster.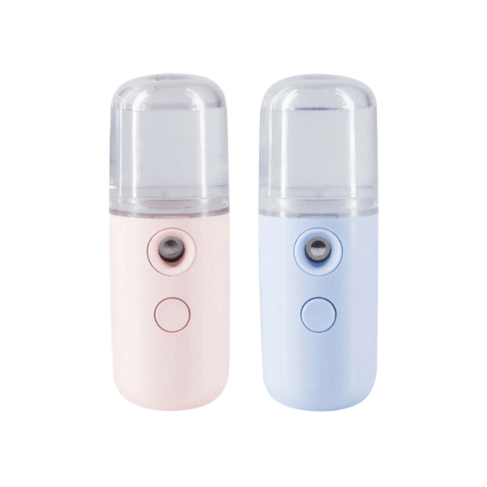 Two colors.
One incredible device.
Find your match with our light pink and light blue color variations. The device is suitable for men, women, and children alike.