For the couch
potato in you
Sunflower seeds. Chips. Popcorn. Nuts. We all have our favorite go-to snacks to grub on when we're lounging in front of the TV or on the phone. Now, you can enjoy your munchies right in front of you, with space to throw away shells and bits without ever needing to get up to the trash can. Discover the ultimate convenience with our Lazy Snack Bowl.
Keep your eyes
on the screen
A convenient phone slot is built into this food-grade plastic bowl so you won't have to pause or miss a second of your game, movie, or livestream while enjoying a snack. Our phone slot fits phones up to 6.7in/17cm in height (remember, the height becomes the width when you place the phone in landscape mode), making it great for just about any phone make. The bowl works great too if you are just watching something on your laptop or TV.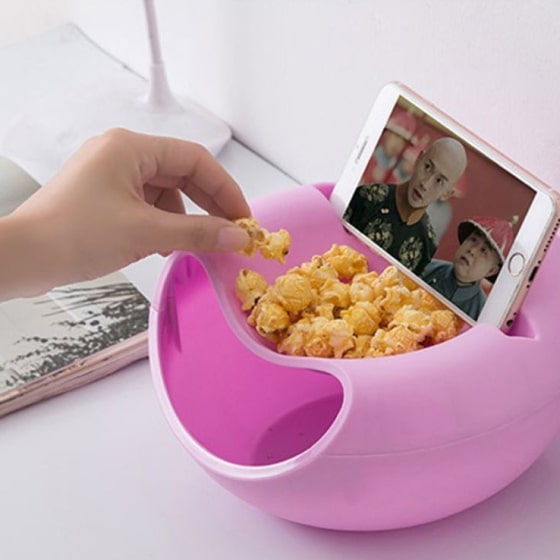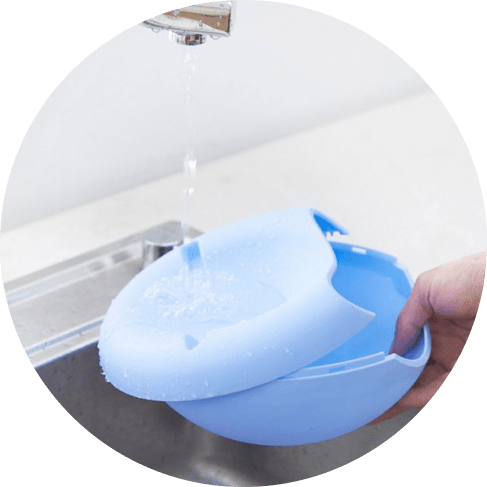 Spatially aware
Our bowl measures 7.9 x 7 x 4.7 in (20 x 18 x 12cm) for a perfect, bowl-sized snack holder you can carry with you. Keep nut shells, fruit stems, and other waste all in one place without cluttering your couch or coffee table.
Cleanup is easy
The top and bottom portions of the bowl easily detach for washing.
Not snacking? Double it up as
a multifunctional holder.
When you're not snacking with this bowl, you can clean it and use it to hold household things, such as car keys and parking passes to personal jewelry (or even coins). The sky's the limit with such a convenient bowl.